*Update* I'm back! I had an incredible time and am still sorting through all of my experiences. I'm also going to keep this campaign running through the end of August. Thanks to everyone for their support!
Welcome! My name is Lauren Beltramo, a designer and illustrator currently living in Charleston, South Carolina. I'm delighted to announce that I will be attending the Condensed type design program this summer at The Cooper Union in New York City. Follow along on Instagram and Dribbble as I share what I love about my native New York, Charleston, and, of course, letters! This summer of love for letters is dedicated time for me to explore the root of my passion in type design and all the people and places that have made my career possible. Is the dot on a lowercase "i" really called a tittle? Did a stork deliver the roman alphabet directly into your computer? Was the "@" sign used before the internet? Are emojis not, in fact, ruining modern language? The answer to all of these questions is - maybe! Throughout this summer we'll explore the deliciously delectable world of type and learn a little bit about the way we communicate, and ourselves, in the process. I'm so excited to welcome you on this journey! This campaign is to help raise funds for tuition, supplies, and loss of income over the summer (about $6,000 in total). Share it, tweet it, donate! Every little bit helps and I appreciate every single level of support!
Calling all iPhone users! This one is for you. Download my iMessage sticker pack Summer Vibes available now in the App Store. Dolphins jump, jellyfish jelly, and even the sun has to wear shades because it's so cool! Every single sticker is animated, from a tragically falling ice cream cone to a soaring egret. Have an idea for a sticker you would like to see added? Let me know!
Download a printable black and white bundle of my Color of Love, Holy City, and Neue Yawk, postcards as well as the Look to the Future fortune teller. Please email me the questions and answers you receive from your fortune teller and tag me on Instagram @robotjellyfish to share your beautifully colored postcards. Cards are formatted for A6 and 8.5" x 11" printing.
Custom Illustrated Recipe Card + Card Set
This set includes 4 blank risograph printed recipe cards and one of your recipes hand illustrated recipe by me! After clicking "Add to Cart" use the form to upload your recipe or select "Surprise Me" for one of my recipes! Cards are 6"x4" printed on Munken Lynx 120 gsm by Risotto Studio. Slight variations may be noticeable from set to set.
Tote-ally Awesome Summer $wag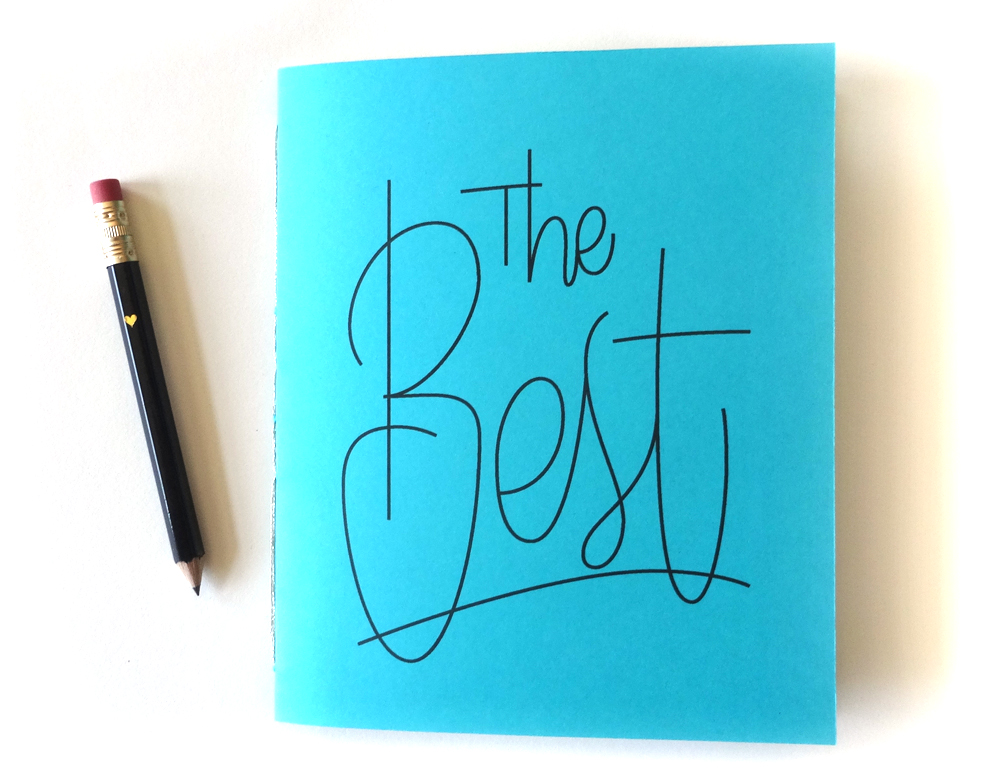 Get everything you need for a summer of love for letters: The Best hand made notebook, foil stamped pencil, a block printed tote bag, an enamel pencil and squiggle pin set, an enamel Lucky No,. 7 pin, a Holy City postcard, and a Neue Yawk postcard.
Custom Lettered Monogram Gif
Add a subtle touch to your wedding website, Facebook profile photo, or even your email signature with a personalized animated frame-by-frame black and white monogram. (What's that, you ask? All of the moving illustrations on this page are created frame-by-frame). Maximum of 4 characters. Add a framed 8"x8" print for an additional $50.
Custom Lettered Phrase Gif
Just like above, except with MORE LETTERS! Say it loud and say it proud. Great for website headers, bold email announcements, or a special gift to brighten someone's day. Maximum of 3 words. Add a framed 8"x8" print for an additional $50.
Woohoo! Thanks for reaching all the way to the bottom!
Use the button to donate a direct dollar amount!
Special thanks to Mom, Dad, and Peter; Marianne Fokas, Edward Williams, Brielle DeMirjian, Emilee Villar, Jody Graff, Sandy Stewart,
Victoria Rushton, Dave Coleman, Ayana Campbell Smith, Jessica Scheeler, and Rich Mach

Brush font used above on the numerals and "Donate" is Kansas Casual courtesy of Very Cool Studio.
You can also support me by browsing some other goodies over at shop.lazysupply.co